Artist Statement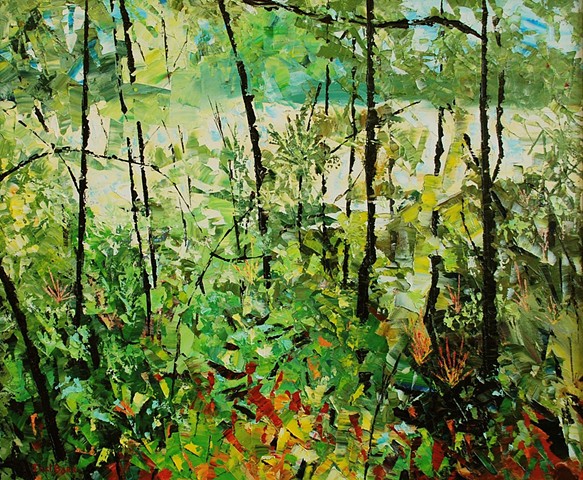 Looking Through
Oil on Canvas | 20" x 24"
Artist Statement
Sometimes we see what no one looks for--images that have waited for us to find them. If we are lucky, these images will wait while we try to capture them with paint on canvas. They will probably change as we reach for them. I believe that if we clearly and honestly record what we see, we will be surprised, enriched, and sometimes stunned by what we've found.
There is almost always a narrative in my paintings as I believe that a story may be introduced in a scene. The viewer must fill in the before and after with unique eyes and experience, but enough can be presented to set a challenging stage if the work is successful.
Along with being a visual story teller, I've been called a colorist, surrealist, patternist, and sometimes a texturist. I'm an Atlanta artist--an oil painter for over twenty-five years. I love working with oils because each painting session results in a new revelation of what they might do. There is a mystical quality to each painting and each day for me.
Finally, and always, there is a spiritual quest in my paintings. Driving that are the essential questions of why we are here, what we can or should or might do here, how we got here, and where we might be going. Just as I believe that there is a spirit in all things, I try to instill a bit of that spirit into each brushstroke.