About The Artist Joel Barr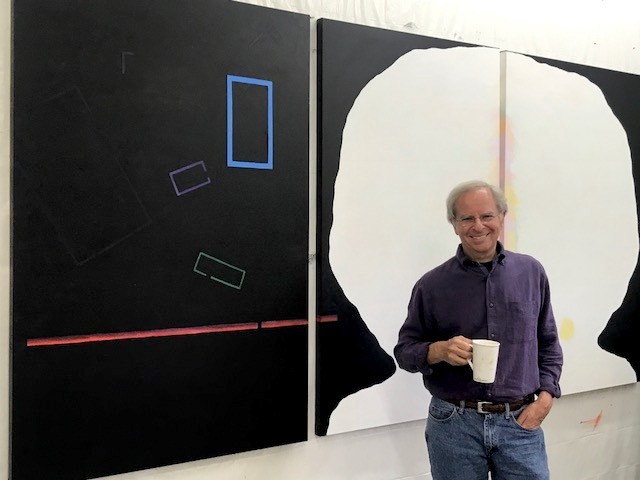 Joel Barr is a Savannah artist and writer. As a painter, his contemporary art style makes use of exciting color to create boldness in his stories on canvas. He paints what he discovers, creating a narrative that is abstract, surreal, often mystical, and ever evolving. Joel's work is represented in private and public art collections in several countries.


JOEL BARR Abstract and Surreal Artist
Drawn by his experience of the intense blues of the skies and water and fiery sunsets in his native Florida, Joel began painting full-time in his early forties. Initially, he enrolled in workshops at the Maitland Art Center near Orlando, and he has continued to study, being largely self-taught. Joel works exclusively in oils, which lend vibrant, natural expression to his work.
His bold, contemporary canvases invite the viewer to join him in exploring a world of the imagination and the human spirit, one that is at times surreal, and frequently symbolic. As Joel says: "If I were to ask anything of the viewer, it would be that they bring their own thoughts, questions, investigations, and heart to bear on what they see in my work."
Born in Miami and raised in Orlando, Florida, Joel graduated from Duke University with a B.A. degree in English and Economics and earned a Master's Degree in City Planning from the University of North Carolina at Chapel Hill. He left an early career in city planning to run his family's business, Barr Display, in Orlando. During those years, he began writing full time and published his novel, Chapters and Verse, along with his poetry and non-fiction essays.
Currently, Joel's art may be found in public, corporate, and private collections in the United States, Canada, England, and Mexico, as well as galleries in Georgia and Florida. He lives in Savannah with his wife, Grace, a writer, and paints full time.
Gallery Shows and Exhibits
Solo Show: Opening Lines: Paint and Prose, The Learning Center, Savannah, GA
Solo Show: WORDS AND STORIES, Quinlan Art Center, Gainesville, GA
Re-Opening Show, I.D.E.A. Gallery, Sandy Springs, GA
Party of Five, Wild Hope Gallery, Sandy Springs, GA
I.D.E.A. Gallery, Sandy Springs, Ga (gallery artist)
The Art of Food, Aimee's Gallery, Decatur, GA (group show)
Solo Show: Life Lines, Aimee's Gallery, Decatur, GA
Featured Artist, Newbill Collection, Seaside, FL
The District Gallery, Knoxville, TN (gallery artist)
DNA by the Hand of Man Gallery, Gainesville, FL
I.D.E.A. Chamblee Gallery, Sandy Springs, GA
Newbill Collection, Seaside, FL (gallery artist)
Aimee's Jewelry and Gallery, Decatur, GA (gallery artist)
John Collette Fine Art, Cashiers, NC (gallery artist)
Ron York Fine Art, Nashville, TN (gallery artist)
Tonia Mitchell Gallery, Morrow, GA (gallery artist)
Gift Gourmet & Interiors, Knoxville, TN (gallery artist)
Taylor Kinzel Gallery, Roswell, GA (gallery artist)
Ice House Gallery, McIntosh, FL (gallery artist)
Eclectic Electric Gallery, Atlanta, GA (gallery artist and featured artist)
Approaching Six Degrees, Cherrylion Studios, Atlanta, GA (group show)
Lucas Road Gallery, Meridian, MS (gallery artist)
Urban Art Works, Crabapple, GA (two-person show)
Solo Show: Church of the Atonement, Sandy Springs, GA
Solo Show: Nine Years Searching for Good Signs, Still Life in G Gallery, Gainesville, FL (retrospective)
Darius Gallery, Atlanta, GA (gallery artist)
Heaven Blue Rose, Roswell, GA (gallery artist)
V. Reed Gallery, Atlanta, GA (gallery artist)
Selected Juried and Invitational Exhibits
Water, International Group Show, Colors of Humanity Art Gallery, Online, USA
Yellow, International Group Show, Colors of Humanity Art Gallery, Online, USA
Spotlight on Art, Trinity School, Atlanta, GA
Art of Healing, Wiregrass Museum of Art/ Southeast Alabama Medical Center, Dothan, Alabama (invited artist)
Rag Ribbon Rainbow Show, Atlanta, GA
Art in Bloom, Johns Creek Art Assn., Johns Creek, GA
Artxtravaganza, Webb School, Knoxville, TN
Play Ball! National Exhibit of Baseball Art, Springfield, IL
ArtScapes, Knoxville Museum of Art, Knoxville, TN
Southworks, Oconee Cultural Arts, Watkinsville, GA
National Juried Exhibit, Grandview Gallery, Atlanta, GA 1997: Art of the Book Invitational Show, Orlando, FL
Valencia Community College Small Works Show, Orlando, FL
Valencia Community College Faculty Invitational Show, Orlando, FL
Maitland Art Center "THREE BY" Show, Maitland, FL
Orlando Museum of Art Biennial Show, Orlando, FL
City of Orlando Biennial Juried Show, Orlando, FL
Selected Juried Outdoor Exhibitions
Mainsail Art Festival, St. Petersburg, FL
Piedmont Park Arts Festival, Atlanta, GA
Bonita Springs National Art Festival, Bonita Springs, FL
St. James Court Art Show, Louisville, KY
Artsclamation!, Knoxville, TN
Downtown Sarasota Festival of the Arts, Sarasota, FL
Alpharetta Art Festival, Alpharetta, GA
Professional Work
Book Covers: Paintings or details on over 20 covers, Boson Books, Raleigh, NC
Teaching
Lecture: The Artful Life, Aimee Gallery, Decatur, GA
Introduction to Oil Painting, Orlando, FL and Atlanta, GA (adult education)
Painting with Words, Orlando, FL and Atlanta, GA (adult education)
Painting Workshops for Trinity School, Atlanta, GA (elementary school)
Oil Painting on the High Seas, via Muse Destination Workshops
Oil Painting in the Mountains, via Muse Destination Workshops
Collections
City of Orlando, FL
Valencia Community College, Orlando, FL
Maitland Art Center, Maitland, FL
McKenna Long and Aldridge, Atlanta, GA
Private collectors in the U.S., Canada, Mexico, and England
Publications
Novel: CHAPTERS AND VERSE, Gibbs Smith Publisher, 1991 hardback
Open Road Publishers Paperback (in print)
Numerous articles, book reviews, poems in newspapers, general interest and literary magazines